| | |
| --- | --- |
| Authors: | Yoshiroh Kamiyama |
Dojo Mobile 1.7 or later has the ability to load external view content and create a new target view dynamically. The _ItemBase class, a base class of ListItem, IconItem, etc., has the "url" property, which allows you to specify a URL of external data that will be a new view content after performing a view transition. Two data formats, html and JSON, are supported, and their content handlers are implemented in dojox.mobile.ViewController. (See also Dynamic Content Loading for details)
In 1.7, unfortunately those handlers are not customizable. The user has no choice but to use the existing content handlers which handle an html fragment or a particular JSON format.
In 1.8, however, the ViewContoller was refactored to modularize the handlers to allow the user to customize them. The data handlers are structured as follows: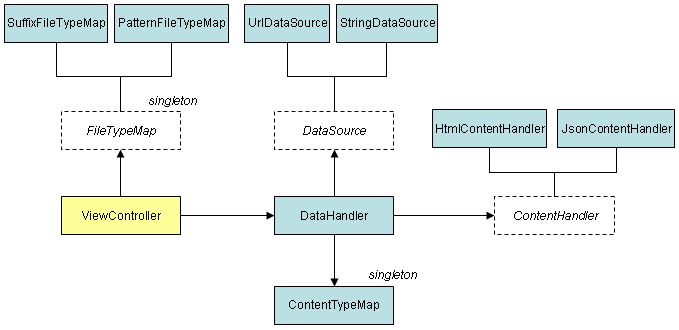 The data handlers consist of the following components:
DataHandler
FileTypeMap
DataSource
ContentTypeMap
ContentHandler
All of the above components are loaded dynamically at run-time. You do not need to explicitly require them in your application. If your application does not use the "url" property of _ItemBase, they will not be loaded.