| | |
| --- | --- |
| Authors: | Yoshiroh Kamiyama |
Dojo Mobile has the ability to load external view content and create a new target view dynamically. The _ItemBase class, a base class of ListItem, IconItem, etc., has the 'url' property, which allows you to specify a URL of external data that will be a new view content after performing a view transition. Two data formats, HTML and JSON, are supported, and their content handlers are implemented in dojox/mobile/ViewController. (See also Dynamic Content Loading for details.)
The module dojox/mobile/ViewController modularizes the handlers to allow the user to customize them. The data handlers are structured as follows: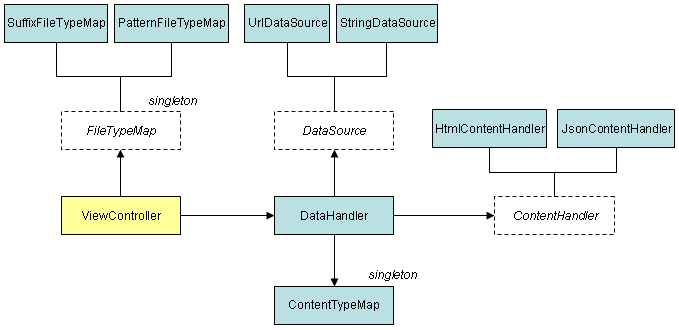 The data handlers consist of the following components:
DataHandler
FileTypeMap
DataSource
ContentTypeMap
ContentHandler
All of the above components are loaded dynamically at run-time. You do not need to explicitly require them in your application. If your application does not use the "url" property of _ItemBase, they will not be loaded.