| | |
| --- | --- |
| Authors: | Yoshiroh Kamiyama, Atsushi Ono |
| Developers: | Yoshiroh Kamiyama |
| since: | V1.8 |
dojox/mobile/Accordion is a container widget that can display a group of child panes in a stacked format.
Typically, dojox/mobile/Pane, dojox/mobile/Container, or dojox/mobile/ContentPane are used as child widgets, but Accordion requires no specific child widget. Accordion supports three modes for opening child panes: multiselect, fixed-height, and single-select. Accordion can have rounded corners, and it can lazy-load the content modules.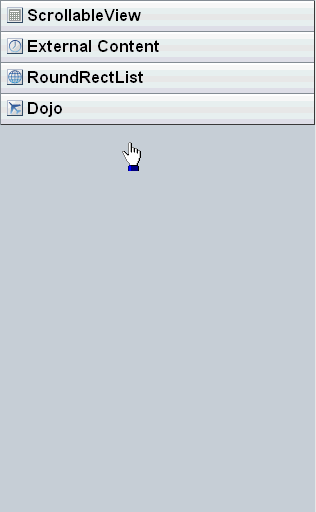 Child widgets of an Accordion take the following parameters, which are referenced by the Accordion widget.
| | | | |
| --- | --- | --- | --- |
| Parameter | Type | Default | Description |
| alt | String | "" | An alt text for the icon image. |
| icon1 | String | | A path for the collapsed pane's title bar icon. If icon is not specified, the iconBase parameter of the parent widget is used. |
| icon2 | String | | A path for the open pane's title bar icon. If icon is not specified, the iconBase parameter of the parent widget or icon1 is used. |
| iconPos1 | String | | The position of an aggregated collapsed pane's title bar icon icon. IconPos1 is comma separated values like top,left,width,height (ex. "0,0,29,29"). If iconPos1 is not specified, the iconPos parameter of the parent widget is used. |
| iconPos2 | String | | The position of an aggregated open pane's title bar icon icon. IconPos2 is comma separated values like top,left,width,height (ex. "0,0,29,29"). If iconPos2 is not specified, the iconPos parameter of the parent widget or iconPos1 is used. |
| selected | Boolean | false | If true, the pane is opened at start up time. |
| lazy | Boolean | false | If true, the content of the pane, which includes dojo markup, is instantiated lazily. That is, only when the pane is opened by the user, the required modules are loaded and dojo widgets are instantiated. This option works only in the sync loader mode. |
| | | | |
| --- | --- | --- | --- |
| Parameter | Type | Default | Description |
| iconBase | String | "" | The default icon path for child widgets. If a child widget does not have its own icon parameter specified, this value is used as its icon path. This parameter is especially useful when all or most of the icons are the same, or you use CSS sprite icons, where you specify an aggregated icon image with this parameter and an icon position for each icon. |
| iconPos | String | "" | The default icon position for child widgets. This parameter is especially useful when all or most of the icons are the same. |
| fixedHeight | Boolean | false | If true, the entire accordion widget has fixed height regardless of the height of each pane. |
| singleOpen | Boolean | false | If true, only one pane is open at a time. The current open pane is collapsed, when another pane is opened. |
| animation | Boolean | true | If true, animation is used when a pane is opened or collapsed. The animation works only on webkit browsers. |